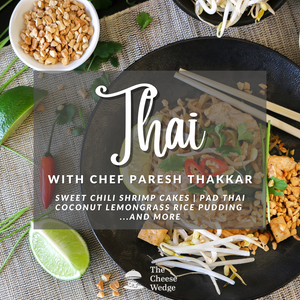 The Cheese Wedge
March 6th, 7th, 27th, or 28th - Thai
Regular price
$95.00
$0.00
Unit price
per
Experience the vibrant flavors of Thailand with Chef Paresh Thakkar during a delightful Thai Chef Night. Delight in the exquisite combination of shrimp cakes paired with sweet chili sauce, relish the iconic pad Thai, and conclude the evening with the heavenly indulgence of coconut lemongrass rice pudding, as Chef Thakkar skillfully captures the essence of Thai cuisine for a memorable dining experience. Four dates to choose from: Wednesday March 6th, Thursday March 7th, Wednesday March 27th, or Thursday March 28th. 
Chef Events are BYOB/Wine. Gratuity is not included.
Event starts at 6:00 PM and is hosted at The Cheese Wedge (601 Michigan Ave, Point Edward). Please enter through the front doors & check in upon arrival. Cost for this event is $95/per patron.
Please inform us of any allergies/restrictions PRIOR to the event date to ensure you can safely attend. Any other questions, please call us at 519-491-1199. 
---