• artisanal sandwich • grilled cheese • sandwiches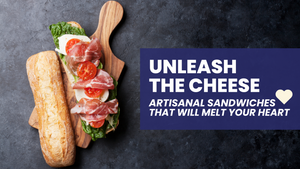 We, the cheese-obsessed, believe that cheese has the power to transform any meal into a culinary masterpiece, and sandwiches are no exception. Whether you're a fan of classics like grilled cheese or are open to more exotic combinations, there's a cheesy sandwich waiting for you to discover.
---
• buffalo mozzarella • burrata • fontina • goat cheese • gorgonzola • pizza • smoked mozzarella
We believe that pizza is a canvas waiting to be adorned with unique and flavorful cheeses. In this blog post, we will introduce you to some extraordinary cheeses that will take your pizza experience to a whole new level. 1. Burrata: Let's start with a cheese that will transform your pizza into a creamy and indulgent masterpiece. Burrata, with its luscious and creamy center, adds a luxurious touch to any pizza. Once baked, it becomes a molten pool of deliciousness that perfectly complements the other toppings. Add some fresh basil and a drizzle of olive oil, and you have a...
---
• beer • beer pairings • cheese • craft beer • gourmet food • ICBH • imperial city • imperial city brew house • local • pairings • river run • sons of kent • stonepicker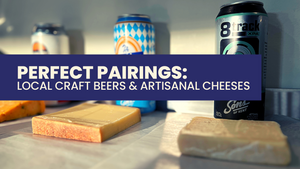 Craft beer and artisanal cheese are two culinary delights that have gained immense popularity in recent years, and it's not hard to see why. The complex flavours and unique characteristics of both make them a match made in heaven. After more rigorous testing (it's a tough life, guys) we have curated a list of the ultimate cheese pairings for some fantastic craft beers from Lambton's finest breweries. Join us on this flavourful journey as we explore the perfect combinations that will elevate your beer and cheese tasting experience - and when you're done, check out our previous articles pairing gourmet...
---
• barbeque • bbq • brie • cheese • cooking • gourmet food • halloumi • saginaki • summer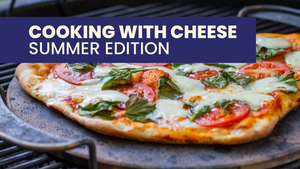 Calling all Cheeseheads! This Summer, grab your family and start enjoying the flavours that we all have been yearning for. Those sweet crisp flavours are beautifully accentuated with cheeses. Experience creamy to crumbly and everything in between. And WHEW it's been hot out there! Add the humidity into the mix and it doesn't make you want to be in the kitchen! Let's have an easy meal with cheese that can be tossed on the BBQ and paired with a cold drink and call it dinner. I've chosen a few of my favourite summer cheeses to get you through the next...
---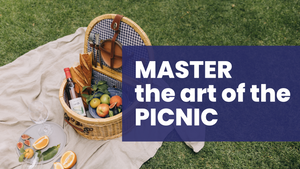 Aside from the food, picnics are a simple pleasure in life that provides you a sense of adventure and real connection to others, which we all long for and could use more of in our lives. The portrait of a perfect picnic is why more people aren't leaving their house with a cooler or basket full. We put unnecessary pressure on ourselves to make it 'just right' or think that it takes too much effort. It doesn't have to.    Sometimes picnics can be 'flops' and occasionally ants & wasps can get in the way of the outdoor festivities, but...