• charcuterie • charcuterie boards • cheese • cheese boards • facts • gourmet food • knowledge • tips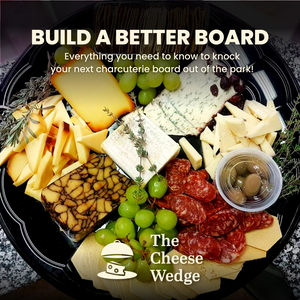 Whether you're a "Turophile" (Cheese Lover) or new to the world of cheeses, choosing the perfect options for your guests does not have to be a challenge. You can knock it out of the park by following a few basic guidelines.
---
• cheese • facts • gourmet food
Dive into everything there is to know about cheese, from the different types to how it can be used in cooking dishes and so much more. There is a lot to understanding cheese and why it is such a delicious food that has been loved by many for centuries.
---
• cheese • facts • gourmet food • milk
Learn more about the facts behind cheese, where it comes from, and how it's made using different types of milk. From goat cheese to rich sheep cheese, discover the origins of some of your favourite types of cheese.